Student Impact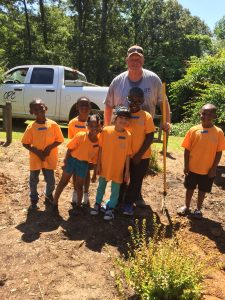 Horizons inspires and challenges students academically, socially and physically to meet with greater success in school and in life. Horizons students, on average, experience zero summer learning loss and even gain 2-3 months in reading and math. Horizons introduces its students to enrichment and recreational opportunities that broaden their experiences and academic engagement. Each Horizons student learns to swim and gains the self-confidence associated with learning a new skill.
Kindergarten Start:  Research shows that students not reading at grade level by third grade are unlikely to graduate from high school, and low-income students enter Kindergarten already behind in literacy skills due to disparities in opportunity, vocabulary and nutrition.  Without summer learning opportunities, the gap grows every summer to almost three years by fifth grade.  Early summer learning is essential to close the achievement gap and preserve the learning potential of these youth.
Experiential Learning:   Horizons' proven hands-on approach instills a love of learning by engaging students in academics, computer literacy, cultural enrichment, swimming and team athletics, special events, field trips and exposure to new things.  Focused Literacy and STEM (science, technology, engineering and math) programming inspires students to learn, achieve and realize success at every level.
Professional, High-quality Teachers:  Horizons classes are headed by professional teachers from both public and private schools supported by teaching assistants, providing a low student to teacher ratio of five to one.  Horizons National provides professional development, annual teacher conferences and a database of more than 150 lesson plans written by Horizons teachers.
Broad Range of Academic Ability:   Horizons intentionally admits students of varying ability – with about one-third performing at or above grade level and two-thirds achieving below grade level.  Horizons students typically represent the middle of the achievement curve, often the least served. The higher achievers in the classroom model strong academic performance for struggling students and can serve as mentors to their peers.