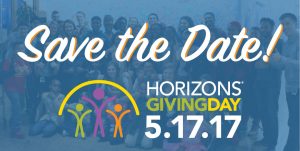 On May 17, 2017, Horizons at the University of Mississippi is taking part in the 3rd Annual Horizons Giving Day, an online fundraising competition hosted by Horizons National. With Advanced Giving beginning May 1st, Horizons Giving Day gathers Horizons sites from around the country in competition for prizes including the most funds raised, the most unique donors, and the largest use of social media. The best part: all funds raised locally, stay local.
This event will help raise crucial funds to support the ongoing expansion of Horizons at the University of Mississippi.
"UM's Horizons program is creating summer learning opportunities for students in the Oxford and Lafayette County School Districts who otherwise might not have it," said Albert Nylander, director of the McLean Institute and Executive Director for Horizons. "For six weeks, students are afforded an opportunity to be Ole Miss Students on campus. UM students are also making a difference in the lives of these schoolchildren through their volunteer efforts in the program."
Horizons has a powerful mission and provides exciting summer learning and enrichment opportunities to students at-risk of falling behind during the summer months. Horizons Giving Day serves as a fun avenue to share that story, with a leader board showing real time fundraising and social media tracking. To follow the Horizon Giving Day activities, like or follow Horizons at the University of Mississippi on Facebook and Twitter. Horizons is encouraging everyone to engage on social media using #HorizonsGivingDay and mentioning @HorizonsUM.
You can learn more about supporting Horizons Giving Day on the Horizons at the University of Mississippi donation page HERE.